Poster is an important medium to promote any services or products be it movies or events or delivering a social message. It is something that can create excitement amongst the targeted people and make them remember every detail easily as they can it regularly.
If you want to create a buzz and get the audience excited about your products, then posters are the way to go as they are visually impactful and have a lasting effect on the people.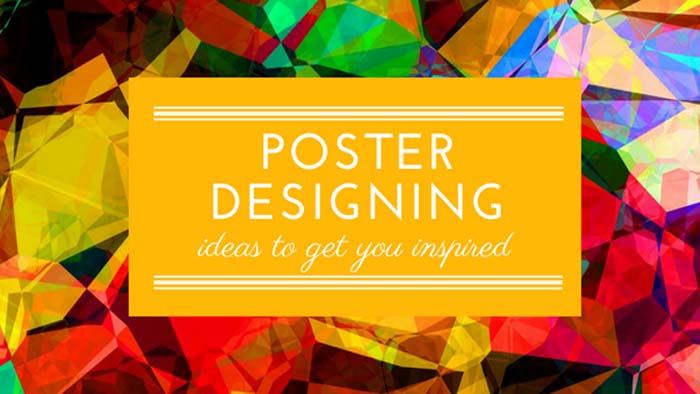 But every poster is different as every business has different requirements so keeping these in mind, a designer should ahead with their designs. Also, if they are designed poorly then nobody would give any attention to them and your effort, time and money would be wasted.
There are so many trends related to posters that sometimes people get confused about how to design a particular poster, and sometimes every trick and design has already been created thus leaving you uninspired and out of ideas. If you are stuck in this phase then this article is just for you.
Why posters are important? 
A right poster design establishes the brand value, identity and message amongst the consumers.
It connects with the audience and makes them interested in your event or product.
It will strengthen the bond between you and your customers.
Here I have 10 Poster designing ideas to get you inspired:
A poster that is minimalistic
A poster that follows the mantra of less is more can sometimes be the best way to attract more consumers. Some things can actually be more impactful if they use less design or text or colors or even white space. They are bolder about conveying your message as it indicates that you don't need big words or flashy colors to make a statement and impress people.
Such posters work best for a film or when promoting a new service. 
A poster that is colorful
If you want to appear bold use lots of color in your posters but make sure that the color chosen resonates with your brand value and product/services you are promoting. A color poster is more likely to grab the attention of the people if designed properly as color psychology is a powerful tool like red is for power and blue for soothing, so select them according to the intended message.
A poster with lot of typography

Sometimes you need to deliver a lot of information about maybe an event or about the mission statement of your business. In such cases, typographic posters are best. They don't need fancy images just a typeface that is appealing and visible to people. In such posters, content should be unique, best and updated- all the information that is relevant to the poster's purpose should be in the poster without making it look cluttered. 
A poster with graphics

If you want to surround your upcoming event or film or a launch with mystery and interest than keeping text to minimal and using a decent amount of quality graphics can go a long way. This helps people interpret it any way they want while keeping the mystery intact and hence more audience will be interested in it.
A poster that creates nostalgia
If you want people to remember something from the old ear or if your product/service has a vintage feel to it than using a vintage theme to design your posters can be a great idea. It makes people nostalgia, and they look forward to feeling that way again by using your services/products.
A poster whose focal point is a photo

A picture speaks louder than words, is dramatic and also invokes emotion from people. If you have a good photo that perfectly sums up your message than using it as the central attention with few words is the way to go.
A poster that uses motivational quotes
Using motivational quotes or images can actually help in delivering a social message and making sure that it has an impact on the minds of the audience.
A poster that beautifies nature
For events that are related to nature like conserving water or importance of sustainable development, using images of nature can be real helpful.
A poster that uses shapes
Using different shapes makes the viewer eye the whole poster as one shape creates another shape. They can be used to contain text or a particular design but used anyway, they are effective.
A poster that has humor
Using sarcastic phrases or making the poster funny and silly is a great way to capture the attention of a passerby. Never hesitate to use this idea, as it can work way better than others.
Additionally, you can design amazing posters using poster maker tools like Canva. Here you will get many ready to use poster templates to get you started. Furthermore, Their so many ideas that sometimes they contradict each other but any idea will only work if you use it keeping your business goals and brand values in mind. If any of these ideas inspired you then, what you are waiting for, get back to designing.