Conference room tables are one of the most essential furniture items in every organization. From critical business discussions to important decision making to management review meetings – several such activities take place at conference tables.
Organizations, today, are operating in a highly competitive environment and therefore demand smart and innovative furniture that can help them stay more focused, efficient and productive in their day-to-day tasks. Conference tables assume high priority in their list of furniture suiting their work culture and specific requirements.
Leading furniture manufacturers allow their customers to go for conference tables that are made to order in order to provide a perfect match to their requirements. As a result, it becomes important for every organization or buyer to consider several aspects while ordering or buying a conference table: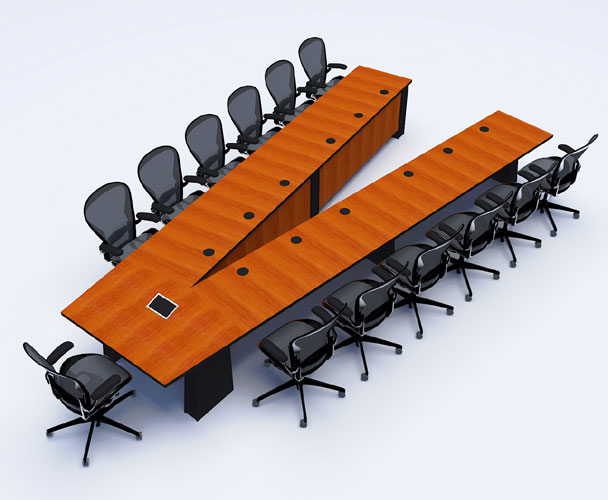 Shape & Size
It is important to choose the right shape and size of a table that can perfectly fit into your conference space and accommodate the required number of users, laptops, computers, LCDs and networks. Based on your floor plan, you can choose to go for U-shaped, open-ended or face-to-face configurations. In case you need flexibility, some conference tables are scaleable for small videoconferencing groups in board room spaces to big teleconferencing theaters with galleries.
Collaboration Needs
Global collaboration and group dynamics are essential elements of today's smart organizations. As a result, it is always advisable to go for conference tables that seat all participants in a way to encourage non-confrontational, collaborative body language. This helps in creating positive experience for everyone leading to active participation and free communication flow.
While shape of the table plays an important role to facilitate collaboration, the placement of laptops, computers or LCD screens is also crucial. Smarter tables used for conferences feature patented flipIT® systems that allow LCD screens or laptops to be placed at a semi-recessed position thus offering both ease of access and unobstructed lines of sight. Participants can be easily seen – by each other as well as teleconference cameras.
Systems for LCDs and Laptops
Conference tables should allow free use of laptops or LCDs. This has been made possible through flipIT® systems for LCDs and laptops that offer the advantage of making computers accessible and comfortable to use during discussions, meetings or presentations. In case, laptops or computers are not required during sessions, the systems provide secure, instant storage.
Power & Data Connectivity
Impressive conference room design depends to a great extent on the effective cable management. Smart conference tables come with complete power and data cable management system in order to provide a clutter-free look while offering customized data and power connection options.
Aesthetics
It is important that your conference table complements the conference room décor theme. With multiple options available with respect to color, shape, base design, workstation and screen placement, you have the option to choose the one that perfectly suits the desired interiors.
Remember that these tables can be custom configured to your conference space and to meet your exact needs. If you need professional assistance in deciding that perfect conference table, you may also choose to go for Design Studio Services that are offered at no additional cost or obligation to purchase.