The overall look and décor of your dream kitchen depends to a great extent on your choice of the worktop. When we say, 'choice' it means everything pertaining to your kitchen worktops – type, colour, texture, and design or pattern. The worktop serves as the focal point of your kitchen and must be chosen so that it complements the overall kitchen décor theme. This decision is taken after considering the different aesthetic and functional features or properties of the worktop options available in the market. This post highlights some of the great choices available in granite kitchen worktops for London households for creating their dream kitchen.
Titanium Granite from Levantina for MKW Surfaces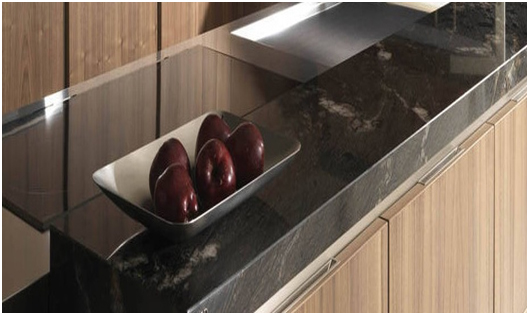 Of all types of stone kitchen worktops, granite countertops are preferred owing to their durability, easy availability and resistance to stains and scratches – the usual norm in any kitchen. Maintenance and care of granite worktops is both easy and less expensive when compared to other work surfaces. A unique quality that makes granite worktops truly desirable for your dream kitchen is their aesthetic appeal. You have unlimited colour and pattern options, each exuding unparalleled beauty and appeal.
All you need to do is – decide the décor theme for your dream kitchen and then choose a matching granite countertop from a wide range of options available in the marketplace.
In order to make this task easier, the following sections list some attractive and appealing granite worktops that you may find to be a perfect match for your dream kitchen:
If you are looking for a solid black worktop complementing lighter shade décor theme, Absolute Black granite featuring finer granules of stone crystals or pure black shade Memorial Black could be ideal options.
If your kitchen theme is borrowed from the beauty of night skies and cosmic patterns, you may want to choose from some beautiful granite surface options such as Black Galaxy (Start Galaxy), Cosmic Black, Stargate Cosmos and Cosmos Black granite.
If you want to create an interesting kitchen countertop such as the enigma of deep black sea with lights of marine life, Black Marinace granite is a great option. Marinace Gold and Marinace Red are two more popular options to make for an interesting work surface for your kitchen.
Labrador Blue granite is for those looking for a classy yet attractive kitchen work surface that can appeal to anyone.
If white is your choice, Cambridge White, Kashmir White granite, Bianco Romano, Moon Rock granite and Bianco Crystal are few ideal options featuring a subtle pattern that is largely dominated by white.
If you wish to go for a more contemporary but natural look for your kitchen, Absolute or Regal Black granite featuring a natural dark gray shade with minimum patterns could be your best pick.
Fusion Black granite, Silver Cloud and Balfour White granite are some of the beautiful varieties for those looking for a drizzling pattern.
The list can go on and on…….
Remember, each granite slab has a unique pattern, shade, colour and texture and can be cut, designed and shaped according to specifications.
If granite is the pick for your dream kitchen, look for a reliable granite kitchen worktops supplier in London. It is important to choose a supplier that offers end-to-end service ranging from understanding your specific requirements to recommending the most ideal kitchen worktop to providing smooth installation service and training for use and care of granite worktops.