There could be times when you might be stuck between two choices and face the issues of making the best decision. It could also happen to you if you are buying electrical appliances especially Smartphones.
Hence, if you are confused in buy Nokia 6 or Motorola G5 Plus, continue reading to get a clear picture of Nokia 6 specifications and Moto G5 Plus features.
Nokia has been a veteran of the mobile industry, but it has recently launched its pack of Smartphones with Nokia 6 leading it from the front.
On the other hand, Motorola has emerged as one of the mainstays of the Indian mobile industry, and it's the newest addition Motorola G5 Plus is a sturdy model to watch out!
Motorola G5 Plus Vs. Nokia 6 – A quick comparison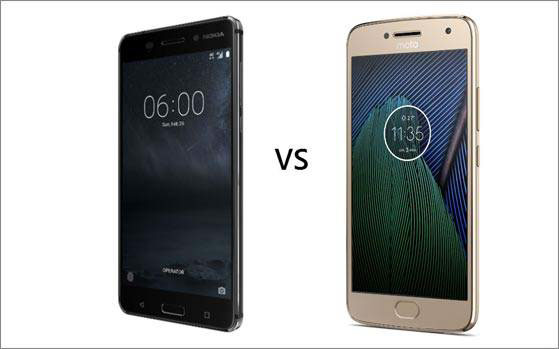 Display :- Nokia 6 is better if you love a bigger screen since it has a 5.5-inch full HD. On the other hand, Moto G5 Plus has a 5.2-inch full HD display. Rest of the display features such as Corning Gorilla Glass 3 protection is intact on both the devices.
Processor :- A Smartphone's processor keeps it functioning with full zest, and it should be powerful. Moto G5 Plus has the edge over Nokia 6 because it sports a 2.0GHz Octa-core Snapdragon 625 processor and the latter has 1.4GHz Qualcomm Snapdragon 430 processor. Nokia 6 also has Adreno 505 GPU.
RAM :- If your Smartphone has a higher RAM, it will function without lagging. Nokia 6 has a 3GB RAM while Moto G5 Plus packs in a 4GB RAM. 
Internal Storage and expanding capacity :- Nokia 6 and Moto G5 Plus have 32GB of internal storage each. But, you can expand Moto G5 Plus only until 128GB while Nokia 6 gives you a 256GB of external storage.
Software :-  Nokia 6 runs on Android 7.1.1. Nougat and Moto G5 Plus runs on Android Nougat 7.0. 
Camera specs :- The primary camera of Nokia 6 has a 16MP with PDAF, f/2.0 aperture dual-tone LED flash. The primary camera of Moto G5 Plus is laced with a 12MP rear camera with Dual pixel autofocus, f/1.7 aperture and dual tone LED flash.
Talking about secondary of selfie camera, Nokia 6 has an 8MP camera with f/2.0 aperture, and Moto G5 Plus comes with a 5MP camera with f/2.2 aperture. 
Weight :- Both Smartphones are lightweight to carry with ease. Nokia 6 weighs 169 grams while Moto G5 Plus weighs just 155 grams.
Battery Power :- What is the purpose of having so many features in a Smartphone if its battery does not let you enjoy in the longer run? Nokia 6 and Motoi G5 Plus come with a 3000mAh battery with Moto G5 Plus providing lightning fast turbo charging.
Other Features :- Some of the other features of both the Smartphones are:
Nokia 6 – 4G LTE, Wi-Fi, Bluetooth 4.1, USB OTG, NFC, GPS and a 3.5mm audio jack.
Moto G5 Plus – 4G VoLTE, Wi-Fi, Bluetooth 4.1, USB OTG, NFC, 3.5mm audio jack, and GPS.
Purchase Nokia 6 and Moto G5 Plus at No Cost EMI 
If you are planning to buy any of the discussed models and a host of other Smartphones and other appliances, you can buy at No Cost EMI from Bajaj Finserv EMI Store.
Buying Nokia 6 on EMI and Motorola G5 Plus on EMI won't poke a hole in your pocket as you can divide their costs into affordable EMIs.
Some of the benefits of Bajaj Finserv EMI Store are: 
No Cost EMI – You pay only the final price of the product divided into EMIs and no interest.
Same-day delivery – Bajaj Finserv EMI Store's vast network of 43,000+ hyperlocal outlets in 950+ Indian cities makes it possible for your product to reach within 24 hours.
Minimal documentation and instant approvals – Just add Nokia 6, Moto G5 Plus to the cart and checkout as you won't need prior approvals or fill in a lot of paperwork.
Since the performance of Nokia 6 and Moto G5 Plus are discussed on various parameters, you can easily make your mind to buy one from Bajaj Finserv EMI Store. You can indulge in the fun of No Cost EMI, divide your costs and expand the savings!
Bio: Aditya Sehgal is a blogger and loves to write on various niches. He is known for his in-depth knowledge on topics such as technology, gadgets, current trends etc. Being a passionate writer he also contributes his knowledge in the form of articles on various blogs and websites.